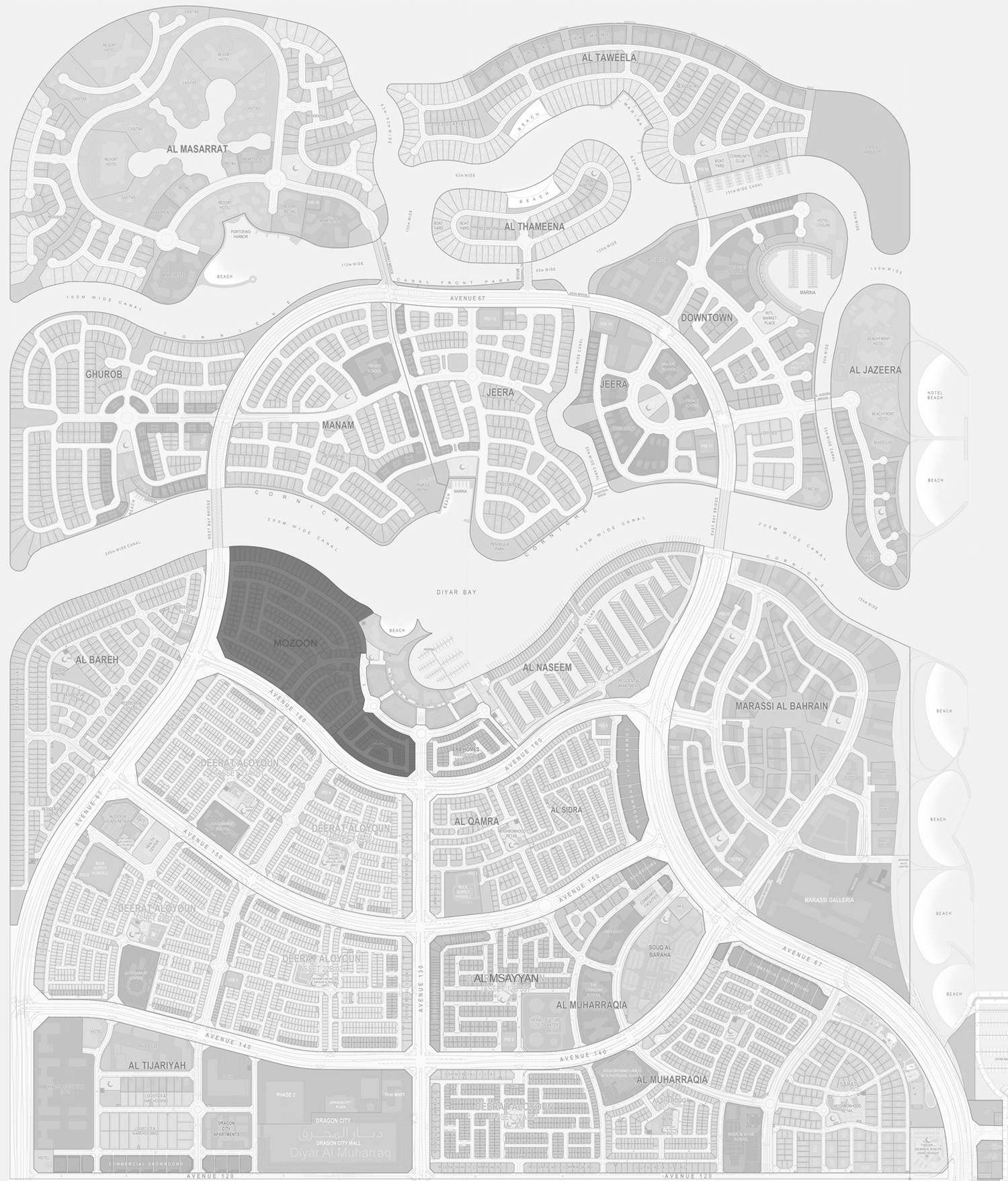 MOZOON
Skilfully crafted to embody the vigorous energy of Diyar Al Muharraq's progressive urban development, Mozoon is formed of waterfront and inner plots which reflect the modern city life through landscapes destined for the rise of luxurious residential villas.
The Location: Prime Location and Seafront Lifestyle
Mozoon is pinpointed in a prime location in Diyar Al Muharraq. The newly launched project is situated in proximity between Al Bareh project and Al Naseem community and offers plots permitting a perfect balance between harmony and luxury, enhanced through a seafront lifestyle by the main canal.
The environmentally friendly development allows direct access to the city's modern business district, retail promenade, nearby hotels, and crystal-blue waters neighbouring pristine white-sands.
Features: Sizes and Offers
Mozoon plots are set to accommodate luxurious residential properties with a variety of plot options for potential residents to choose from, with sizes starting from 320 SQM.
Buyers benefit from Freehold Ownership and feasible prices with flexibility enabling interested buyers to choose the size they see fit for their dream home.
Infrastructure: Planned Neighborhood and Proximate Amenities
With a central and well-connected address, the meticulously master-planned seafront development resides close to schools, hospitals, Marassi Beach and Hadiqat Al Diyar and malls namely Marassi Galleria, Souq Al Baraha, Dragon City Bahrain, Thai Mart.
Mozoon is located within a walking distance from Al Naseem Marina and seafront retail outlets and restaurants. Therefore, residents and families shall enjoy seafront living along with an array of amenities and recreational facilities for a wholesome lifestyle.
Mozoon also attains distinction with its enchanting open green spaces and palm trees located in the Community retail area at the epicenter of the project. The local retail area includes beauty salons, grocery stores, laundry shops, bakeries and a Mosque.
In alignment with the vision of Diyar Al Muharraq, the project features modern infrastructures and a ring road connecting the Diyar Al Muharraq community to allow easy mobility; few among many factors that project the ambitious urban masterplan set to be a truly sustainable world-class metropolis where residents and commuters live the highest quality of life.