Sustainable living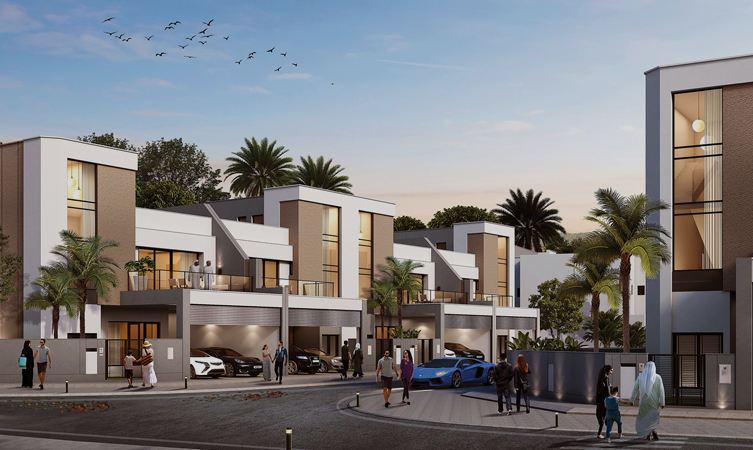 Sustainable Living
Diyar Al Muharraq set forth to achieve sustainability goals on the social, economic and environmental levels. In harmony with its masterplan and modern city solutions, and according to international standards, it invested thoroughly in:
1-Environmental sustainability:
Adoption of a comprehensive environment management plan after consulting international experts and carrying out a series of studies which was also implemented through environment and air quality monitoring and analytical system.

Installation of solar energy trees with a capacity ranging between 2kW and 3 kW to generate power to primary irrigation controllers and actuator valves to secondary asset connections.

Implementation of many initiatives that played a fundamental role in creating a sustainable future, through investing in innovative research projects to preserve the environment and contracting with experts to promote recycling and to protect the environment.

Installation of a complete sewage treatment network for the entire southern island of Diyar, to prevent the passage of tankers in "Diyar Al Muharraq". In addition to setting up their own sewage system in 20 meters-deep tunnels.

Installation of estuaries to collect rainwater, and adoption of modern construction techniques using the deep gravity system.

Replacement of imported rocks with local ones to reduce carbon emissions resulting from shipping and trucking from foreign sources.

Safeguarding and revitalization of the maritime environment through recycling grey water in addition to the plans relating to greening, increasing water utilization and reducing waste.
Diyar Al Muharraq set up Artificial Reefs all over the island to attract fish. In addition to the creation of fish farms.
2-Socio-economic sustainability:
Creation of a smart city that provides a better lifestyle through technological solutions.

Reduction of operational and capital costs related to electricity and maintenance bills.

Usage of LED spotlights and sustainable technology to highlight the city's aesthetics and reduce energy consumption especially in Hadiqat Al Diyar, Al Bareh and Al Qamra projects.

Merge of new technological ideas with traditional engineering to provide modern and innovative engineering solutions featuring traditional methods. Among those: the introduction of gravity networks for both rain and storm networks, followed by the Sewerage Maintenance Department to reduce the mechanical solutions of the two systems together.

Support of the Ministry of Industry, Commerce and Tourism to create the innovative underwater marine park called "Dive Bahrain".