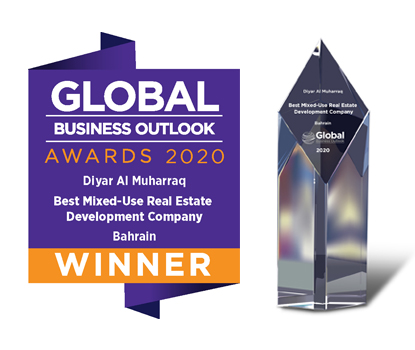 Diyar Al Muharraq Named 'Best Mixed-use Development Company' by Global Business Outlook 2020
Manama, Bahrain - ** December 2020: Diyar Al Muharraq, one of the largest real estate development companies in Bahrain, has received the 'Best Mixed-use development 2020' Award by the Annual Global Business Outlook Awards 2020.
Commenting on this occasion, the CEO of Diyar Al Muharraq, Eng. Ahmed Ali Alammadi, said: "We are extremely pleased to have received this prestigious award from GBO for 2020, which is a reflection of our continuous efforts to raise the standards of development and elevate the real estate sector in the Kingdom of Bahrain and the quality of living. We are very proud for what we have achieved and would like to express our appreciation and gratitude to all parties who contributed to our success, from partners, investors, employees and associates. We look forward to maintaining this momentum in the future as we continue to implement our future plans."
Since its inception in 2015, the internationally-acclaimed Global Business Outlook, continues to recognize and reward excellence in global business across multiple sectors, including Banking, Insurance, Wealth Management, Technology, Real Estate and Development, and Hospitality, in both the public and private domain.
Companies are assessed and awarded on the basis of demonstrating advanced levels of creativity and innovation, and contribution to value creation on a local, regional and international level. The shortlisted candidates need to showcase positive results based on their strategy and impact to the global economic community.
Diyar Al Muharraq is one of the largest integrated cities in the Kingdom of Bahrain, which preserves the Bahraini family values while offering a variety of housing solutions and a luxurious modern lifestyle. The project offers a unique, balanced mix of residential, commercial, recreational, and healthcare facilities, creating a fully integrated and futuristic model city.
About Diyar Al Muharraq: Diyar Al Muharraq is one of the largest real estate development projects in the Kingdom of Bahrain. It is an urban location the blends elements of modern life and the original Bahraini heritage, with its unique mix of residential and commercial projects making it among the best investment opportunities for both personal and commercial assets. Diyar Al Muharraq is located in the northern part of the city of Muharraq, on a total area of 12 square kilometres, with 7 reclaimed islands with an area of 10 square kilometres and 40 kilometres of waterfronts and picturesque sandy beaches, and aspires to be a sustainable model city for the foreseeable future. Diyar Al Muharraq's projects will incorporate all the elements that constitute an integrated community in all respects, this includes residential and educational facilities, medical centres, commercial complexes, parks, hotels and ship harbours, making the location an ideal place for families to settle and enjoy a rich social living environment.